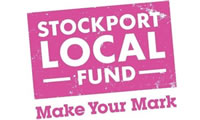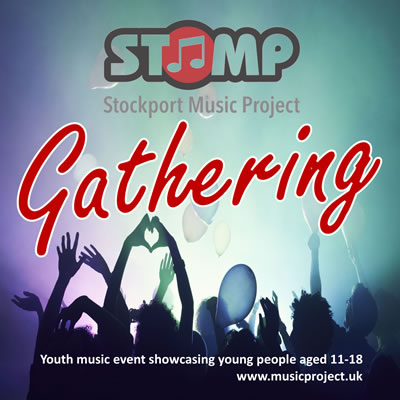 SUNDAY MARCH 26th 2023 2pm - 6pm
St Mary's Community Halls, St Mary's Dr, Reddish, Stockport SK5 7AX (google maps)
Live music performances courtesy of young people (please register free or e-mail if you wish to perform)
Masterclasses in Electric Guitar, Songwriting and Music Theory (pdf info sheet)
1-1 Advice and Guidance
Refreshments, ground floor access, venue car park, free parking
203 bus route both ways
Can you help to publicise this event please?
Please download / print and share our: Invitation Letter . Social Media Art . A4 Poster . Masterclasses Info Sheet
Registration in advance is FREE and all enquiries are answered via the simple form below.
For those not registered who wish to attend we ask for a £5 cash donation on the door.

Stockport Music Project acknowledges the support of Stockport Local Fund and Manchester Airport

---
hello and welcome
Our regular sessions take place at
St Mary's Community Halls, St Mary's Dr, Reddish, Stockport SK5 7AX (google maps link),
every Tuesday during term time, from 6.30pm - 8.30pm.


WE DELIVER MUSIC LEARNING & ACTIVITIES FOR YOUNG PEOPLE AGED 11-18, ALL ABILITIES


Our Socials: Instagram . Facebook . Twitter
Project Manager
Darren Poyzer
Community Music Leader and songwriter; SEN educator; experienced youth worker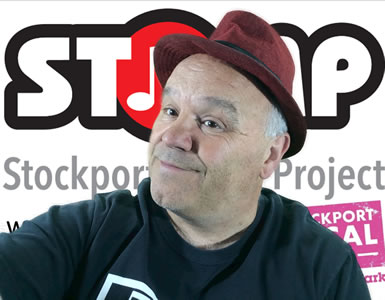 Darren is your first point of contact for all enquries
Darren Poyzer (Project Manager)
stockportmusicproject@gmail.com
---
Safeguarding:
Within Stockport Music Project we have our own safeguarding lead officer - Jan Gough - safeguarding policy and constitution. Any issues that arise during our activities and sessions will in the first instance be referred during or either side of our sessions to Jan Gough, and / or as we are situated within a Church of England venue, may be forwarded to St Mary's Church.
For further safeguarding guidance relative to activities at St Mary's please contact:
Parish Safeguarding Officer: Gillian Turner stmaryschurch.safeguarding@gmail.com tel. no. 07969 647974
or Revd Helen Scanlan HelenScanlan@manchester.anglican.org tel. no. 0161 320 7244
or Manchester Diocese Safeguarding Officer safeguarding@manchester.anglican.org tel. no. 0161 828 1400
or the Local Authority Services for Stockport 0161 430 2817
St Mary's Safeguarding Policy can be accessed and downloaded here