Live Performance . Community Music and Singing . Learning and Education
Live Performance FAQ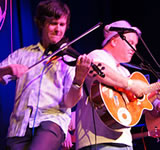 Solo, duo or trio?
I'm good value as a solo artiste, up to two hours with a break if that's what's required, however for special occasions, festivals etc, I often put together either a duo or trio line-up. All musicians bring their own styles and profile to each gig; for example there's outstanding harmonica legend Pigman, or the brilliant fiddlers Fluff and Jamie Parkes, and for that full on two acoustic guitar sound there's Kevin Farrell and Roydan Styles.
Do you play pubs, cafe bars, folk clubs?
Yes I play pubs and cafe cars quite often, but only those that facilitate and promote live music. I love and have played a number of folk clubs, including themed events; my original songs and stories are ideal for the folk club setting, and I genuinely enjoy listening to others and taking part in a sing-along.
Can you play an originals only set?
Gladly! I have around 3 hours worth of original songs to choose from, and these work in lively folk / indie / mellodic rock festival settings, or can be stripped down to acoustic only for more intimate listening occasions. For originals, there are lots of videos and recordings, please > click here <.
Do you play covers / popular songs by other people?
As a rule, if there's a lively bar gig, I'll play 2 sets of at least 45 minutes with a mix of classic non-cheesy songs, and very accessible original songs, most with accompanying stories. For the covers song list please > click here <.
Do you play festivals?
Yes, and where the opportunity arises I prefer to do so with a duo or trio line-up. I'm also a very capable experienced host compere and stage manager.
Are you happy to support another artiste / band?
Yes, I have a wide range of songs and stories to deliver and have supported many high profile artistes and toured with some also. My 'supporting role' cv lists a quite diverse range including Steve Coogan, John Cooper Clarke, Lloyd Cole, Eddi Reader, Wishbone Ash, Hawkwind, Fisherman's Friends, Roy Harper, Glenn Tilbrook, Chris Difford and many more!
Do you play weddings and prtivate parties?
Yes but only usually at the very, very special request of people who know and love what I do. As someone who isn't a maintsream cabaret act, I would never look to play such events if there wasn't already a familiarity.
What fees do you charge? Do you play charity events?
Fees are negotiable and dependent on the size of venue, the location and the occasion. Pub fees tend to be pretty standard at around £100 / £150 for solo / duo, whilst special events and festivals often require the trio. Providing it's a cause I support, I am always happy to support charity events in exchange for my expenses. Homeless charities and special needs projects in particular are my preference, however I am always happy to answer a call positively to see what I can do to help ...
Are you available short notice and in what area?
Yes. I travel out of Stockport, near Manchester, 2 minutes from the M60 ring road which links into the M6, M56, and M62. A call or text gets a prompt reply.
Do you have sound system and lights?
Yes. My HK Audio concert rig is an excellent, compact system, and it's good for outdoors also if I can access a power supply. My lights are on a single stand presently, and are straight forward, bright colours, non-disco.
Are you a family friendly performer?
Yes. I drink water only before and during my work, with a small beer or coffee afterwards. I keep the stories and songs family friendly and accessible for all.
Do you play political songs?
Not in the sense that I rant or tell people what to think, no. I play a wide range of songs, with a very strong socio-political anthem or two at the heart of a good set. Some of the occasions I am often invited to play include Wigan Diggers Festival, Preston Peoples Festival and Belladrum Tartan Heart, and these offer a very wide and eclectic mix of writers and artistes.
Community Music and Singing FAQ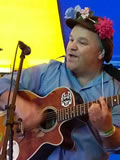 What kind of comunity singing groups do you work with?
I work with a number of groups delivering community singing sessions in care homes and day centre venues, and my associate partners include AgeUK, Alheimer's Society, Just Drop In (Macclesfield), The Bridgend Centre (Bollington), Sunrise Senior Living (Bramhall), and Whitehill Resource Centre (Stockport).
Do you have song sheets with word for the songs you sing?
Yes I provide song sheets, and the list is constantly being developed according to the needs and preferences of each group, as I can work with any song and genre. With older groups we would usually sing songs from the war years and onwards into the 60's and 70's, whereas with young people's groups we look for songs they know that might also be known by adult audiences.
Do you play any instruments in these sessions?
Yes, usually the acoustic guitar with some harmonica. However, for a wider ranging dynamic we sing unaccompanied and also with original recordings to help with reminiscence.
Do your singing groups perform at special events?
Yes, most of them do, but not regularly as the emphasis is always on fun and singing as an activity. And of course, participation is always optional, and not compulsory for any group member.
Learning and Education FAQ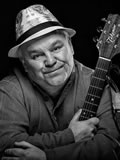 You are a 'music leader' - what does this mean?
I work to deliver music through informal (community) projects, as well as via formal education and youth services. The term 'Music Leader' was recently introduced by Youth Music (UK) to identify those of us who use our skills as musicians, to the benefit of communities through both formal and informal education and community projects.
Are you available to work in schools and colleges?
Yes. I've spent quite a few years working in part-time roles specifically as a Music Teacher in special needs schools, with children in care (EBD) and those with learning and physical disabilities. I've taught BTEC Music Courses, and run workshops in songwriting and creative writing.
Do you offer guitar lessons?
Yes. Based in and around Stockport, Greater Manchester, I can invite learners to my home rehearsal space, or travel out. As a rule, I like to run an informal 'introductory' lesson to get a plan in place, and then offer a reasonable fee for a series of bespoke lessons. These lessons might include a little music theory, keyboard work, home recording, singing and songwriting etc to enable wider music learning. Young people with some experience of playing music may like to join us at Stockport Music Project.
Do you give piano lessons?
As a rule no, as there are dedicated piano teacher out there better equipped to deliver formal instrument teaching than myself than myself. However, as part of a wider approach to music learning on guitar or music technology, I include piano keyboard learning and opportunities as this enables better understanding of how music works. Young people with some experience of playing music may like to join us at Stockport Music Project.
What Special Needs music support can you deliver?
I can provide 1-1 or small group sessions loaded with music activities with individual support, empowering people to express themselves though music whatever their needs. In the first instance, an informal meeting and a small number of 'get to know you' sessions provide an insight into what exactly is required, and what best short and long term plans could be put in place. I have some equipment at home, however a budget however small can help purchase music equipment that meets the needs of people we are working with. And with a substantial project budget, I can also advise and set up advanced music technology such as Soundbeam, I-Pad apps, Mixers, Controllers and PC software. Young people with some experience of playing music may like to join us at Stockport Music Project.