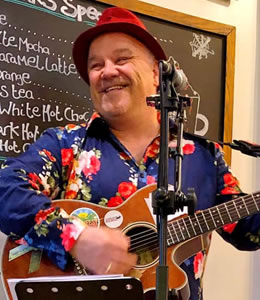 Thank you for taking the time to visit my website.
2019 has once again proven to be a year loaded with music positives; it includes bookings at Belladrum Tartan Heart, St David's Music Festival, Audlem Music Festival and Wigan Diggers.
I've also taken on a new role as Project Manager for Stockport Music Project, delivering music activities and support for young people aged 11-16 and looking after a small team of volunteers.
I'm hosting two very popular open mic nights, making songwriters and those who prefer to play a few covers very welcome in Lymm and Stoke On Trent, and these run monthly on the first Thursday (Lymm) and last Saturday (Stoke).
Alongside awesome musicians, I've made available recorded music via Bandcamp, with free downloads and 'pay as you wish' options. Those who know my songs, may be interested to know that a new batch of writing and recordings will be made available during the Summer.
As always I am humbled and greatly appreciative of your interest, please do come along and say hello in person.