ONLINE:
1st-30th September 2020
New Mills Festival
(and online here at www.poyzer.com)
Songs and Stories - 3 x 30 minute short films, written and produced by Darren Poyzer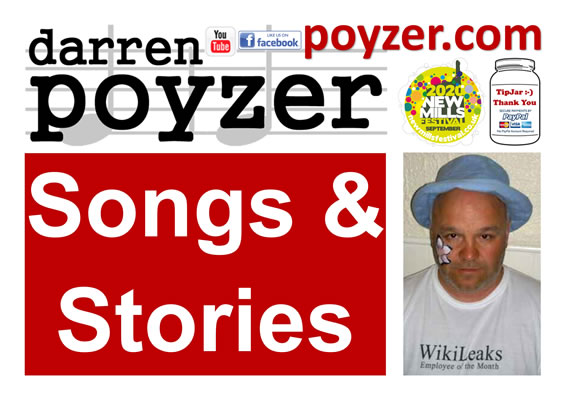 Music has taken Darren Poyzer over land and sea, through the air and underground.
It's taken over 30 years of good sweat and beers but at last, with a diary full of live music he's finally made it as a full time musician.
He has songs to sell, stories to tell ... and a pandemic to deal with.
It took 4 weeks for everything in the diary to simply disappear ... no gigs, no income, zero rock'n'roll.
Sounds like you should give this one a miss.
3 x 30 minute videos bring you all the humour and of course the glamour, of the big stage in the spare room.
"Darren is one of the most infectiously good natured performers I've seen in 35 years in the business"
- Henry Normal (Baby Cow Productions / Bafta Award winning writer and producer)
"memorable ... rabble rousing ... excellent"
- Acoustic Magazine
"Make no mistake, this is a man who is passionate about peace and social justice; he just also happens to have an excellent sense of humour and an engaging stage presence."
- Buxton Festival Fringe
All other events for 2020 cancelled or postponed until 2021 ...