---
Musicians and Line-Ups
Darren Poyzer
Acoustic Guitar, Vocals, Harmonica

Darren Poyzer is a rare songwriting talent, as entertaining as he is inspirational.
"Make no mistake, this is a man who is passionate about peace and social justice; he just also happens to have an excellent sense of humour and an engaging stage presence"
- Fred Rolland, Buxton Festival Fringe
See:
Solo Performance
30+ years as live music performer
Festival Compere
Themed Events
Community Singing
---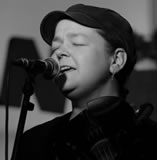 Fluff (Clare Smith)
Fiddle and Vocals
One of the outstanding fiddle players with a revered cv, Fluff is a member of Galleon Blast, and former member of The Incredible String Band and Tower Struck Down.
She's played on a number of recordings, in particular our cult alt/folk trio version of 'Love Will Tear Us Apart' that was championed by Joy Division's Peter Hook.
See:
Poyzer & Fluff
Poyzer, Fluff and Farrell

---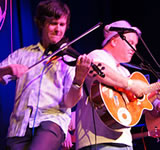 Jamie Parkes
Fiddle and Vocals
Another oustanding fiddle player, Jamie is a musician whom I first teamed up with at an open mic night in Manchester. We played a number of great shows together including a support with The Lancashire Hotpots, who then took Jamie on as a session musician and occasional live member of the band.
These days he's also a member of acclaimed Staffordshire band The Idioms.
See:
Poyzer & Parkes

---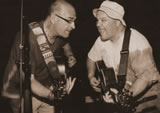 Kevin Farrell
(Acoustic Guitar, E-Bow and Vocals)
One of my most frequent musical partners, Kevin is an outstanding guitarist, singer and songwriter, whose influences include the likes of Todd Rundgren and Tom Waits.
He performs solo in his own right, and is a regular performer online globally aka 'Lefty Unplugged' via 'Second Life'.
See:
Poyzer & Farrell
Poyzer, Fluff and Farrell
---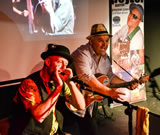 Pigman
Harmonica and Vocals
One of the top UK harmonica players and blessed with an awesome steampunk-esque stage presence, Pigman is an outstanding performer and personlity.
He is a keen busker wherever the music takes him, delivering an eclectic and highly unique collection of streetwise jazzy-blues songs and stories.
See:
Poyzer & Pigman
---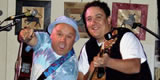 Roydan Styles
Acoustic Guitar and Vocals
One of my favourite songwriter performers, Roydan mixes influences such as Frank Zappa, Roy Harper, bluegrass festivals and an appearance on legendary TV show Tiswas, delivering an acoustic blitz of entertaining songs and smiles.
See:
Poyzer & Styles
---