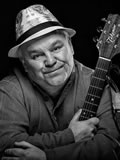 Darren John
Young People's Groups
Care Homes and Day Centres
Dementia and Reminiscence
Project Manager (Stockport Music Project)
Music Leader (Bridgend Community Choir / Just Drop In)
The dedicated Community section of this website has a diary and current activity information.
"Where Darren Poyzer appears, unusual things happen and people enjoy themselves ...
natural acoustic sound with trademark warmth, firmness and tenderness from his guitar
and seemingly effortless projection of the distinctive voice that shares those same qualities"
- Leeds Music Scene
Community Singing Music Leader
I run a number of community singing group sessions, and am available for one off occasions, or to help develop and manage a long term project. I can provide testimonials and letters of recommendation if required.
Commission and Employers
Most recently I have worked for and with Age UK, The Alzheimers Society, The Bridgend Centre, and Just Drop In (Youth Counselling).
Songsheets and Recordings
I provide song sheets for everyone in a group session, with songs ranging from 'It's A Long Way To Tipperary' and 'We'll Meet Again' to 'Annie's Song' and Yellow Submarine'. As well as playing and singing live, I can provide original recordings for singing along to and help with reminiscence.