Family friendly, organised, professional
Stage Management experienced
Sound Engineer experienced
Promoter 2,500+ music / alt cabaret events
Concert Performer with 30+ years experience
Has worked as tour crew, tour driver and guitar tech
"Darren is that rare breed of musician who believes supporting the scene is as important as developing his talent. An infectious personality, prodigious talent and a wonderful compere."
- Rob Ellen (Belladrum Tartan Heart)


Belladrum 2015 with
Martin Stephenson


"Darren is one of the most infectiously good natured performers I've seen in 35 years in the business"
- Henry Normal (Baby Cow Productions / award winning writer, producer, poet and comedian)


Belladrum 2014 with
Glenn Tilbrook (Squeeze)
Information: I began working in and around community writing, songwriting and arts events in 1986, eventually taking up a professional role in 1989 when I launched 'Witchwood Live' in Greater Manchester, running until moving on in 1999.
I booked and promoted a number of live music events for 'Euro '96' in Manchester, and helped launch and produce 'Splendid Weekend' park events for Tameside Council. I have co-hosted and performed at many more charity and community events since.
In recent years I've worked at Belladrum Tartan Heart alongside Rob Ellen (Potting Shed Stage), compered a Christies Cancer Trust dinner event with Peter Kay, and co-hosted a week of events on the Princes St Stage at Edinburgh Fringe Festival.
Throughout my career I've gained experience and knowledge of many technical and creative aspects of live performance. I've sound engineered for bands such as Bad Manners, been a stage hand for Barbara Dickson, and toured with bands from Europe, North and South America.
Fee: £100 - £150 per day, + food and drink (alcohol on completion only), + travel from Greater Manchester and accomodation if necessary; in summer I'm a happy camper!)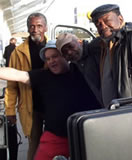 The Holmes Brothers
UK Tour 2006