Darren Poyzer
Acoustic Guitar . Harmonica . Vocals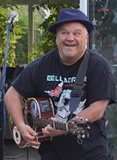 "Thank you so much for making Sunday so very special. Seeing such good friends was awesome,
and sharing live music with them even more so. I have had the loveliest feedback."
- Sue, Fife (Scotland)
Making this work / the basics: Our 'extended family' of friends love these events, and in my humble opinion we should gather like this more often. A 'house concert' is essentially an informal private party / gathering at home, in a garden or a small community space, and whether we are celebrating a special occasion or just having a gather, inviting yours truly to play, perform and deliver family friendly bants and stories is something I highly recommend! :-)
Food / drink / entertainment: Those invited bring along a contribution to the buffet (hot food, cake etc), a little something for the drinks table, and an offering towards the cost of the entertainment.
Publicity: I am very happy to help with designing a promotional flier / invitation.
Performance: A house concert can be two sets of around 45-60 minutes each, or whatever suits yourself as host / hostess.
Performance Content: The songs are mostly original, wide ranging, family friendly and accessible, the banter is lively and family friendly, and there are a handful of classic cover versions if required.
Technical Set-Up: As a rule we would usually be 'acoustic' however a small busking amp and microphone can be provided for gardens and larger rooms.
Fee: Always negotiable, dependent on travel from Greater Manchester or wherever I am 'on the road' with accomodation if necessary ... in summer I'm a happy camper!