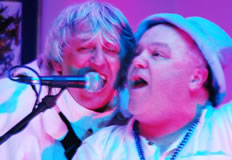 Darren Poyzer
Acoustic Guitar
Harmonica
Piano
PA System and Lights
"Darren is that rare breed of musician who believes supporting the scene is as important as developing his talent.
An infectious personality, prodigious talent and a wonderful compere."
- Rob Ellen (Belladrum Tartan Heart)
Opener and End Of the Night: I'm very happy and capable of opening a night, setting a pleasant atmosphere, introducing and accomodating special guests, and then ending the evening with some rousing acoustic anthems.
Sound and Lights: I can provide a professional sound system with microphones, leads and lights, an acoustic guitar and piano if required, and I am very happy to ensure everyone who plays gets a good sound set-up.
Originals and Cover Versions: I am happy to accomodate anyone and everyone playing originals and / or cover versions, and request that song content is appopriate to the venue and occasion.
Experience: I've been running open mic nights and hosting events since the mid-1980's, and in the early 2000's the Manchester Evening news' City Life magazine titled me 'The Godfather of the Manchester Acoustic Scene'.
Currently Running ...
For open mics I host presently, please see the Gig Guide.