Let's Do This!! > All Line-Ups <
The War To End All Wars
Contact Darren: 07866 507441 . e: darrenpoyzer@gmail.com

Darren John Poyzer interviewed by Andy Potter on BBC Radio Derby,
previewing The War To End All Wars at Buxton Festival Fringe 2014:
Radio shows, TV, bloggers, newspapers etc: please do call Darren in person on 07866 507441, e-mail darrenpoyzer@gmail.com or contact via Facebook.
Brochure Paragraph(s):
A troubled veteran of recent conflict sets out to research World War 1, in the hope of soothing his own, personal conflict and dilemmas. Entertaining, poetic, inspired acoustic music with astounding video footage, as Falklands veteran, songwriter and story-teller Darren John Poyzer delivers an up-close and personal, heart-warming comemorative alternative to all that Pomp and Ceremony.
Aged just 18, Darren was on the Royal Navy's front line during the Falklands Conflict of 1982. Now as he reaches his 50th year, he has written to deliver a genuinely unique, heartfelt and soul-searching WW1 Comemoration performance.
Personal Quotes (Darren Poyzer):
The War To End All Wars was a title given to The Great War of 1914-1918, a war otherwise known as World War One. In the present day, with all survivors from that time now lost to us forever, we have a 100 year anniversary of this part of our history. It's a part of our history that still holds many, many untold stories, and more importantly holds many more lessons and warnings as to how we, the human races, continue to make grave, global mistakes. The century of war and conflict since this time, shows this to be a harsh truth ...
As a songwriter - and a war veteran myself / Falklands Conflict 1982 - it seemed quite a natural thing to do, to collect all the conflict songs I have written over the years, to carry out research into The Great War, and to trace common themes that help paint a picture of this last century of war and bloodshed.
This picture, the one I personally offer up to the commemorations, the rememberence, the storytelling and the mourning, is a live performance of all the conflict songs I've written, based on my own experiences, and the findings from deep inside that I have acquired from my research.
This therefore, is a live music performance and film presentation. It doesn't have a set script as such, as we must I feel always through art be aware of our present surroundings, and reference them when we can. It does however have a set of songs, and by way of introduction, I have placed recordings of most of these songs, on my website, and they are free to share.
Press Quotes and Reviews:
"Poyzer is an excellent musician who performs with kindness, honesty and a smile in his eyes, which engages you in his story from the very beginning. Not only that his music and song writing is beautiful. ... one of my Fringe highlights"
- Toni Saxton, Buxton Festival Fringe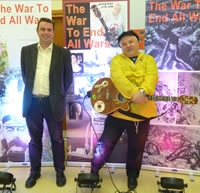 "A great and very thought provoking performance"
- Ian Haughey, Hoc19 Events, Audlem

"Poyzer manages to transmit his material with poignancy and great humility. His acoustic guitar playing is a delight; warmth and kindness shine throughout his performance ... The show is an interesting, educational and creative production ... schools and other institutions would benefit immensely from this presentation, but not exclusively. Everyone should go and see this show"
- Glossop Gazzette
"... a seemingly endless delivery of uplifting stories and images of passion, conflict, and the human condition"
- Raise Your Banners Festival
" ... the rabble rousing protest song still has a voice and a welcome place in an excellent set."
- Acoustic Magazine UK
"Quakers say that dialogue not war should resolve conflicts. Darren's powerful lyrics telling of his experiences confirm this."
- Joan Armstrong, Stockport Quaker Meeting
Full Review Links
Websites and Share Links:
www.poyzer.com - official website
www.facebook.com/darrenpoyzer - facebook page
Hi-Resolution Photo: please click the photo link to hi-res photo of your choice, then download / save as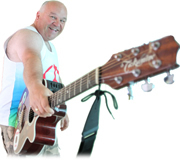 Logo Photo: please click the photo link to hi-res photo of your choice, then download / save as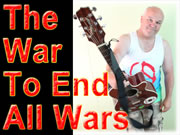 Posters: Full colour A3 posters are available pre-printed, requiring over-print with venue / date specifics. Bespoke website versions can be provided for Facebook, Twitter etc. To obtain an A3 poster online, please click the photo link to hi-res photo of your choice, then download / save as