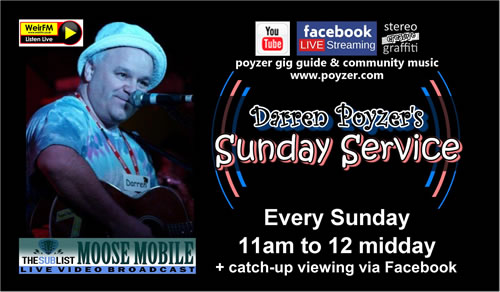 First of all most importantly, thank you for calling in ... I truly wish you the happiest moments in your holidays, a fabulous new year and hope you and yours are safe and well in these rather difficult times :-)
---
'Lockdown' / New Year Update (February 2021)
New: I am now taking live performance bookings, including house concerts.

Government regulations, scientific advice and guidance means we are still unable to programme and run 'regular' live music events. Whilst restrictions are lifting to a point, community singing groups face the longest delay. I am hapy to take enquiries and bookings for events in 2021, and remain flexible and happy to help.
---
Outdoor / Social Distancing Events
I am happy to recieve enquiries to play outdoor and social distancing events providing Government regulation allows this. To assist I am happy to provide my own tech equipment and personal catering, and again I remain flexible and happy to help.
---
Online Streaming / Video
My new 'Sunday Service' live stream show goes live every Sunday @11am via Facebook Live, I have also made a number of live performance videos for venue and festivals during lockdown, and remain open to invitations and ideas ...
---
Radio Show
The Stereo Graffiti Radio Show goes our every Saturday from 8pm - 9pm on on Weir FM 105.7 (Lancashire) and can be heard online at www.weirfm.co.uk.
---
Online Tutoring and Music Activities
I run a number of music activity sessions - in particular SEND music for individuals - online via Zoom.
---
Community Group Support
I am running regular Zoom meetings for Bridgend Community Choir, and producing a videos for good people and good causes. I continue as Project Manager to plan a return fior Stockport (youth) Music Project.
---
Financial Support

Working from home provides a fraction of the work and employment earnings I need to get by.
I would like therefore to thank Help Musicians UK and Field Me for funding awards, and everyone who has made kind donations via Paypal: paypal.me/darrenpoyzer.
If you would like to support me at this time - no obligation - you can:
1) Buy a downloadable song or collection of recordings at my Bandcamp store
2) Watch a video or two and make a donation via Paypal: paypal.me/darrenpoyzer
3) Share my website, songs and / or videos and help spread the word
Thank you, all good things always,
Darren :-)
---