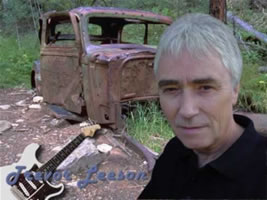 Trevor Leeson
see also: Community
Trev works the cabaret circuit as a fine and very entertaining guitarist and singer, and guested for me on the Passion & Conflict album.
In 1958 Trevor started his career in entertainment as a member of "the Rebels" Skiffle band, complete with tea-chest bass and washboard. By 1961 he had progressed to the world of electric guitars, Elvis, and Rock'n'Roll.
He toured the American bases in France with a band called "The Pontiacs" and turned down a job as backing guitarist for Paul Raven, who eventually became Gary Glitter!
By 1964 he had joined Sleaford-based band "Dawn and the Dee-Jays" and soon recorded two of his own songs with record label RCA, The same label as Elvis Presley himself.
In 1966 the band ventured into the world of Northern Clubs, supporting names as diverse as Max Bygraves right through to Little Richard.
After "Dawn and the Dee-Jays" disbanded, Trevor took on the challenge of moving onto bass-guitar for Grantham band "Gingerbread". By 1969 the band were broadcasting regularly on BBC's Radio1 on shows such as Terry Wogan, Jimmy Young and Tony Blackburn.
Gingerbread disbanded after completing a summer season in the Isle of Man and 1972 saw Trevor doing a short cabaret season in Bermuda before accepting an offer to play bass guitar for the Liverpool's hit recording band "The Merseybeats". After two successful years with the "Merseys", Trevor decided to pursue a solo career with an occasional break to work with other stars including Lena Martell, with whom he toured extensively throughout Britain.