Back Story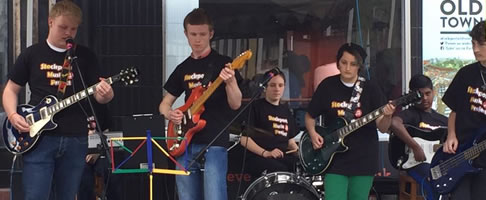 Stockport Music Project has been going since ... well actually we don't know! But there is a credit for StoMP in the sleevenotes on Badly Drawn Boy's 4th album "One Plus One Is One" - StoMP are credited with vocals on tracks 7 and 14 released in 2004.
In the words of former Project Manager Kamey McNamara: "It was originally set up by Stockport Council but I don't know when or where. A couple of us picked up the project in 2007 in Hallam MIll, and we were there for about 1 year. We moved to The Greenhouse Rehearsal Rooms in Stockport for a few years. I was then co-running Stockport Music Academy based in Safe Store, which was very close to the bus station, so I moved Stockport Music Project there. After a few years Safe Store increased the rent to an unreasonable amount so we closed the music academy. I moved to my own music premises which I was very lucky to rent from the amazing team at Seven Miles Out. We were based in Stockport Old Town Market Square for a few years but then very sadly, the venue closed. But at this point we were doing the Arts Award training with Solomon Onaolapo and our administrator Tracy Ryan at Rising Stars NW, and Solomon let us have space in his studio back in Hallam Mill."
In it's finest moments, StoMP was attracting a full house of 15 young people, averaging around 12 at each session, and with a waiting list of young people wanting to join the group the project thrived and truly found it's mojo.
Kamey left the UK towards the end of 2018 to pursue new career goals and sunshine. The team at that time consisted of long-serving Music Leaders Clare Beard and Paul Cargill, and with the continued support of Solomon and Tracy, a new Project Manager was chosen to take up a lead role. Darren Poyzer was offered the role, and he accepted enthusiastically: "I had only recently moved to Reddish, so a music project in my new locality was a challenge I couldn't turn down."

Some young people were moving on with exams and reaching the age where college and adult life became their focus: time for change! Tracy Ryan secured 12 months funding from Stockport Local Fund, and with Solomon and Rising Stars leaving Hallam Mill, Darren secured an arrangement with St Mary's Church in Reddish for us to deliver via what we think is an outstanding new venue.
There is no doubt that projects such as StoMP exist due to outstanding committment from Music Leaders and volunteers. In the words of Kamey McManara "There has been a range of fantastic staff and volunteers who have supported the group but the main core team for the last 6+ years has been Paul and Clare (and myself). As I was leading the group, it was wonderful to have them doing background things e.g. making sure the kids were tuned up, teaching them parts, helping set up and generally taking the pressure off."
Darren adds: "I'm looking forwards now with a 'Team Around The Project' consisting of Music Leaders and parents, overseeing the project with informal advice and a formal committee ensuring that behind the scenes, the long term future of the project can be secured".