What Is It, A Show?
The War To End All Wars - written and performed by Darren John Poyzer - is a live music performance and film footage presentation.
Based on personal experiences as a veteran of The Falklands Conflict, Poyzer - an accomplished and much respected musician and composer in his own right - uses original songs and narrative to provide an alternative to the 'pomp and ceremony' view of The Great War, 1914-1918.
With performances taking place at fringe festival venues, theatres, village halls, scout and guide hq's and even a Cricket Club, reviews are outstanding and very complimentary.

The War To End All Wars was a title given to The Great War of 1914-1918, a war otherwise known as World War One. In the present day, with all survivors from that time now lost to us forever, we have a 100 year anniversary of this part of our history.
It's a part of our history that still holds many, many untold stories, and more importantly holds many more lessons and warnings as to how we, the human races, continue to make grave, global mistakes. The century of war and conflict since this time, shows this to be a harsh truth ...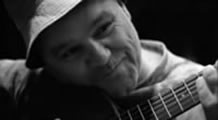 As a songwriter - and a war veteran myself / Falklands Conflict 1982 - it seemed quite a natural thing to do, to collect all the conflict songs I have written over the years, to carry out research into The Great War, and to trace common themes that help paint a picture of this last century of war and bloodshed.
This picture, the one I personally offer up to the commemorations, the rememberence, the storytelling and the mourning, is a live performance of all the conflict songs I've written, based on my own experiences, and the findings from deep inside that I have acquired from my research.
'The War To End All Wars - written and performed by Darren John Poyzer' therefore, is a live music performance and film presentation. It doesn't have a set script as such, as we must I feel always through art be aware of our present surroundings, and reference them when we can. It does however have a set of songs, and by way of introduction, I have placed recordings of most of these songs, here on this website.
Also here on the website, the live dates and ticket details as they are made available, the latest reviews, booking information and press kit for event organisers who wish to enquire about a booking, and the makings of a list of informative WW1 websites and resources. At the time of writing, I am also working with a couple of good friends to produce a DVD, and hope to have this available by the end of 2014.
Please Bring People to These Pages, please share the songs, share the preview video, please do, thank you, Darren :-)