Beginnings
My very first gig: when and where?
A short '3 songs and a poem' set in 1987 constituted my first actual booking as an amateur, as named support to esteemed poet Adrian Mitchell. The venue was a rough old pub called The Dog and Partridge in Ashton Under Lyne - also the town of my birth - and the event was a 'Stand And Deliver' night, upstairs in the function room.
---
What was 'Stand And Deliver'?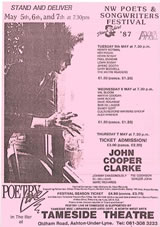 Stand and Deliver was a very rare type of event, a regular performance poetry night that specifically accomodated poets and songwriters. It was one only a very, very few in the UK at that time, that operated in such a way, delivering regular events during each term / season; eg Autumn programme, winter, spring etc.
I was incredibly inspired by one or two writers locally, in particular Kevin Fegan, and one or two who visitied as guests also, and so with this came the drive to write and perform at these events. I was also one of a small team who, a little time later, took over the running of these events and moved them up the road to a new bar venue within Tameside Theatre.
Did you play elsewhere in those very early days?
Yes, and in particular my first 'away' gig took place in a special location for me, Bradford in West Yorkshire. Here I turned up one night to watch one of Nick Toczek's 'Stereo Graffiti' alternative cabaret events, and thanks to a guy called Rev Hammer who lent me his guitar, I took to the stage to play a couple of my songs.
I then really cut my teeth as a performer supporting Henry Normal at a few events on the road, and in central events such as The Manchester Busker and The Fun Box, both delivering a mix of original songwriters, performance poets, and original music line-ups.

Who were your influences at that time?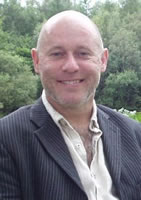 I was supported by and in the company of amazing people; people such as Kevin Fegan - pic right - and Henry Normal in particular, and then one incredible Ashton evening, I met and watched a life-changing performance by George Borowski. There was a rumour circulating at the time that he was the 'Guitar George' namechecked inthe Dire Straits song 'Sultans Of Swing' though he denies this to be true.
Musically at home I was still listening to The Jam, and finding great energy in some alternative, ska and new wave bands of that time.
Which songs were in your set, and do you still play any of them?
I remember one song called 'Capitalist' which quite accurately suggests I was writing political commentary, however I have long forgotten it. I think one or two other songs I wrote at that time were re-written over time, and songs such as 'Simple Boy' and Sunday Morning Footballer' that I play today, are examples of this.
One song that still exists recieving an occasional airing, is called 'Looking For The Positive'. And I recall a mad punky funny song called 'Radio Devil', that maybe I could just about remember and play if requested!
Did you record any songs at that time?
Yes I think around 1988 / 1989 I recorded I think around 8 songs with a new engineer / producer and good friend called Mark Tolle, who went on to do amazing things, including produce demos for The Stone Roses. I released these on a cassette with a hand drawn, photocopied cover, a copy of which I think I still have ... somewhere!
The cassette 'album' was called 'Dancing With Two Left Feet' and the songs I think were generally angry, political, but with enough humour to suggest that back then, I had a strong desire to entertain with original songwriting.