On The Piss with The Bay City Rollers (coming soon)

Texas Tour and The Black Widow Spider (coming soon)

Wishbone, Ozrics, Hawkwind, Toots (coming soon)

On Tour with John Cooper Clarke (coming soon)

On Tour with The Men They Couldn't Hang (coming soon)

Glastonbury and Edinburgh Fringe (coming soon)
The Manchester Busker
What is 'The Manchester Busker'?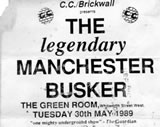 During the late 1980's to mid 1990's, every once in a while, a couple of promoters called 'CC / Brickwall' promoted an event called The Manchester Busker, with an off-shoot show called 'The Fun Box'.. Primarilly it would be staged in Manchester's Green Room Theatre, however it went out to a number of other small theatre venues locally also, notably in Bury and Romiley.
The line-up was a cast of many, a mixed cabaret of poets, comedians, genuine busking and street theatre acts, and of course singer songwriters.
Each time one such event was staged, there was great excitement among many people, and they always sold very well, with many full houses.
Who were the cast of many?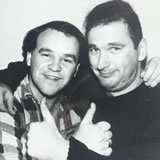 I played a number of these events alongside many outstanding artistes, some who made it to the upper echelons of their creative path; comedians such as Caroline Ahearne, Linda Smith, Hattie Hayridge and Steve Coogan; songwriters such as John Brawmwell (I Am Kloot), Mark Burgess (The Chameleons) and Martin Coogan (Mock Turtles); poets Lemn Sissay, Henry Normal (pic right) and Attila The Stockbroker; actor John Thomson; radio presenter / musician Mark Kermode.
There were also some who aren't so well known in the mainstream, but continued to be outstanding performers and an inspiration to me; George Borowski, Bryan Glancy, Claire Mooney, Mark Kennedy, and more.
Seeing some of these others do so well, do you think you could have made it further as an artiste, as they did?
No. I wasn't focussed on career development, and just enjoyed the incredible creative energy that we shared at this time.
People often say it's 'who you know' that matters, and you could say that a number of people here progressed because they knew each other, however that is not the case. All those who went on to achieve in their field, did so deserving of genuine recognition, and as can be seen, there's a wide range of genres represented with different routes to success taken by each.