On The Piss with The Bay City Rollers (coming soon)

Texas Tour and The Black Widow Spider (coming soon)

Wishbone, Ozrics, Hawkwind, Toots (coming soon)

On Tour with John Cooper Clarke (coming soon)

On Tour with The Men They Couldn't Hang (coming soon)

Glastonbury and Edinburgh Fringe (coming soon)
Witchwood Years
What is 'The Witchwood'?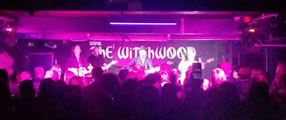 The Witchwood is a live music pub venue situated in the Greater Manchester town of Ashton Under Lyne. At the time of writing (2017), it continues to thrive with a real ale bar at the front, and a 200 capacity dedicated live music concert room to the rear.
Why is is important to you?
In or around 1987, I stepped into The Witchwood to watch a friend play as a support act for a band. Back then it was one single room pub, and I thought nothing of the place, as at the time I was working in college and still learning to play.
Then in 1988, whilst working in a local youth club and also helping to run 'Stand And Deliver' alternative cabaret in a nearby theatre bar, I was told that the landlord of a local pub was looking for someone to put a local band night together.
I went to meet him; the pub was a bit rough by first impression, but it had a great live music reputation going back to the 1960's.
We agreed that I would run a weekly gig every Thursday. I called the night 'Stereo Graffiti' and we packed the place to the doors. The headline band were called 'Willumwozzumbullumbuzzum', we had a support singer songwriter, and over the coming weeks this would be the format with alternative comedians such as Steve Coogan, Frank Skinner, Caroline Ahearne and John Thompson filling the support slots alongside musicians and poets.
How did it progress from there?
This was in August 1988. In January 1989, on the back of our early success of our first promotion, I worked with the landlord John Dyson on a 5 nights a week live music programme, bringing in bands and songwriters covering a wide range of live music genres; soul, rock, cajun, folk etc.
Within a couple of years, we had extended the rear of the pub and split the building into two areas; the rear would be a 200 capacity venue, allowing us to place a door charge and bring in bigger names via ticket sales.
I remained as venue promoter running events here for just over 10 years, creating around 2,500 live music events.
Did you continue with your own music?
Yes I did, however not to the degree of enthusiasm or direction that I have now. There are quite a few promoter / musicians around, and I am sure that most will tell you that having the head space to be successful in both roles simultaneously can be difficult.
Having said that, you do get to know a lot of people on the circuit, and if you can spare the time away from promoting, you can use these contacts to help you get your own gigs.
I think most notably during this time, I played a show in Manchester on a number of occasions called 'The Manchester Busker', and this was pivotal in my development as a songwriter and performer.