On The Piss with The Bay City Rollers (coming soon)

Texas Tour and The Black Widow Spider (coming soon)

Wishbone, Ozrics, Hawkwind, Toots (coming soon)

On Tour with John Cooper Clarke (coming soon)

On Tour with The Men They Couldn't Hang (coming soon)

Glastonbury and Edinburgh Fringe (coming soon)
Meeting Your Heroes
They say you should never meet your heroes; what do you think?
I think you have to be prepared, and be aware of the situation and the pressures that people in the public eye are under. Sometimes, we don't realise this and want people to be perfect idols.
I recently had one of my teen angst music heroes inadvertently follow me into a dressing room area toilet before a show, and with only two cubicles available, I took one. He walked out ...
Another one, Eddie Tenpole was the singer with a band called Tenpole Tudor who I first saw in concert in 1981. He was also the vocalist on The Sex Pistols song 'Who Killed Bambi?' I was really excited to get the chance to promote a show for him at The Witchwood in I think, the early 1990's, but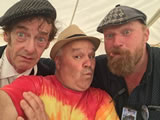 on this occasion I don't think he liked me as a person. The show went very well, however the accomodation I arranged turned out to be a bit rubbish, which didn't help.
Thankfully I have had the chance to perform at a couple of festivals with him in later years - photo right taken at Acoustic Festival Of Britain 2017 - and I've continued to enjoy greatly his live performances.
Have you ever been pleasantly surprised when meeting your heroes?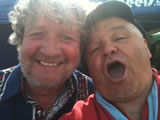 Yes most certainly so. The likes of Glenn Tilbrook (pic right) and Chris Difford from Squeeze come to mind, lovely fellas both; Buster Bloodvessel (Bad Manners); Charlie Harper (UK Subs); Bill Nelson (Be Bop Deluxe), and the fabulous John Cooper Clarke. Then there's people I came to like as people and appreciate their work after meeting them, such as Burt Jansch, Roy Harper and Andy Powell (Wishbone Ash).
Who would you most like to meet?
Well, a chance to say hello to Midge Ure would be good. I traveled to Morecambe (3 hours) on one occasion to play support, only to be told on arrival we had a double booking issue. His tour manager ushered me and friends to the door, with not a chance to say hello.
Paul Weller would be on the list, but I most certainly wouldn't be star-struck.
I'd love to play a show with Billy Bragg. Maybe one day ...
Most of all, I'd like to meet the next person who inspires me, be they famous or otherwise :-)